SME has been placed in a shelter-in-place. This is NOT a lockdown. There is no emergency at the school. Staff and students are being asked to stay in their classrooms, allowing instruction to continue, while the school administration handles a situation with a student. Thank you.
Thank you for supporting SME staff last week with your kind words and gifts for teacher/staff appreciation week. We are fortunate to have such a thoughtful group of parents!! Thank you to our local Fire Department for visiting us on Friday of last week to educate students on equipment and knowledge of the career, etc. Have a wonderful week!
Please help us in celebrating our SME teachers and staff this week for Teacher Appreciation Week!! Pre-K will be visiting SME Kindergarten classes on Friday, May 6. The Edgewood Fire Department will visit SME on Friday, May 6. Have a great week everyone!
Good Morning Families! Progress reports will be going home this week. Please be sure to look for them. Additionally, 5th grade students will take their NM-ASR (New Mexico Assessment of Science Readiness) beginning tomorrow and continuing on Wednesday. Makeups will continue this week also. Have a wonderful week ahead! Go Coyotes!!
Good morning South Mountain families! A reminder that state testing (New Mexico Measures of Student Success and Achievement - NM MSSA) begins tomorrow Tuesday, April 19 - Thursday, April 21 with makeups to follow for grades 3-5. Please ensure your child gets a good night's rest and has a healthy breakfast. It is also important for students to be on time to school. If they are tardy and testing has begun, they will not be allowed in their classroom until after the first session of testing has ended. Please assist us with providing a smooth few days of testing for all students and the school overall. Thank you!
Good morning SME families! There will be no school this Friday, April 15 as it is April break for both staff and students. Additionally, state testing (New Mexico Measures of Student Success and Achievement - NM MSSA) begins next Tuesday, April 19 - Thursday, April 21. Please assist us with minimal distractions during this time by making appointments that do not interrupt the testing days. Thank you and have a wonderful day!
Welcome Back, Coyotes! I hope you had a restful break. Congratulations to our Razzle Dazzle Cheerleaders who earned 1st place at their competition on Saturday!! Keep up the great work!

Due to icy road conditions MESD will be on a 2-hour delay. Please be safe.
Students will be in remote learning this Friday, March 25. Please contact your child's teacher for information regarding their learning on that day. Next week starts our Spring break. Please mark your calendars. Students will return to school on Monday, April 4. Have a great day!
Good morning, Coyotes!! Please look for your child's report card this afternoon as they will be sent home with your child today. Thank you and have a wonderful week!
The end of the grading period is this Wednesday. Report cards go home next week. Have a great week ahead!
The upgrades to our school campus are coming along. The new gates to our bus entrance and the main entrance to the school are installed and functioning beautifully! The audio enhancement systems are in and working great! And, the new coating of stucco has been put on the building where it was needed. Have a great evening and an even better week! Go Coyotes!!
South Mountain Elementary School will have outside contractors on campus working on various upgrades to our school campus. The upgrades consist of new gates of the bus entrance and main entrance, new stucco where needed, and a new fire alarm system. We also had an audio enhancement system installed in every classroom. We are excited to see the new and various projects come to life!

Due to a couple of areas in the district have roads that have not been addressed we will be on a two-hour delay. Thank you for your patience.

MESD will be on a normal schedule today. Please plan to allow yourself more time and be cautious. Have a great day!
Happy Valentine's Day! The internet and phones are not working. If you need assistance please call 505-263-3391, or walk to the main doors of the school. No school for students on Friday, February 18 due to parent teacher conferences. No school for students and staff on Monday, February 21 due to President's Day.
SME Coyotes Razzle Dazzle earned a 3rd place trophy at the Spirit of Hope competition in Albuquerque on Saturday. Congratulations!!!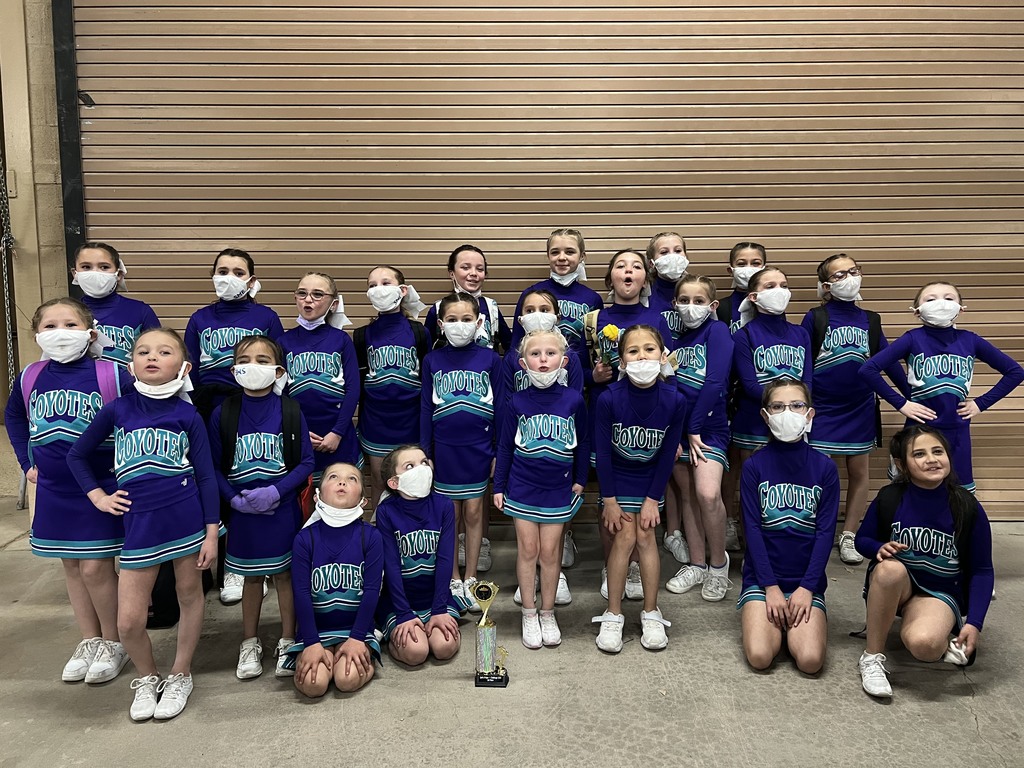 Looking forward to having students back for a full week of in-person learning!! Extended Learning Time Programs continue this week! Have a great day from your SME COYOTES!!!!
STUDENTS WILL BE IN REMOTE LEARNING TOMORROW FRIDAY, FEBRUARY 4. BE SURE CHROMEBOOKS ARE CHARGED AND READY TO GO . YOU WILL BE HEARING FROM YOUR STUDENT'S TEACHER BY THIS EVENING. CONTACT THE SCHOOL OFFICE AT 832-5700 IF YOU HAVE ANY QUESTIONS, THANK YOU!
NO SCHOOL TOMORROW THURSDAY, FEBRUARY 3, 2022 DUE TO WEATHER CONDITIONS. SNOW DAY. PLEASE BE SAFE AND STAY WARM. EXTENDED LEARNING TIME PROGRAMS ARE CANCELLED FOR THURSDAY, FEBRUARY 3 DUE TO INCLEMENT WEATHER. STAY SAFE!